In multi-part series, exclusive to the Maine Maine Real Estate Insider, we'll provide an up-close look at the most notable commercial development projects of the past year that are helping to fuel Maine's economy in terms of investment and job creation.  MEREDA is proud to recognize responsible development based upon criteria including environmental sustainability, economic impact, energy efficiency, difficulty of the development, uniqueness, social impact and job creation.
Please join with us in celebrating Tyler Technologies.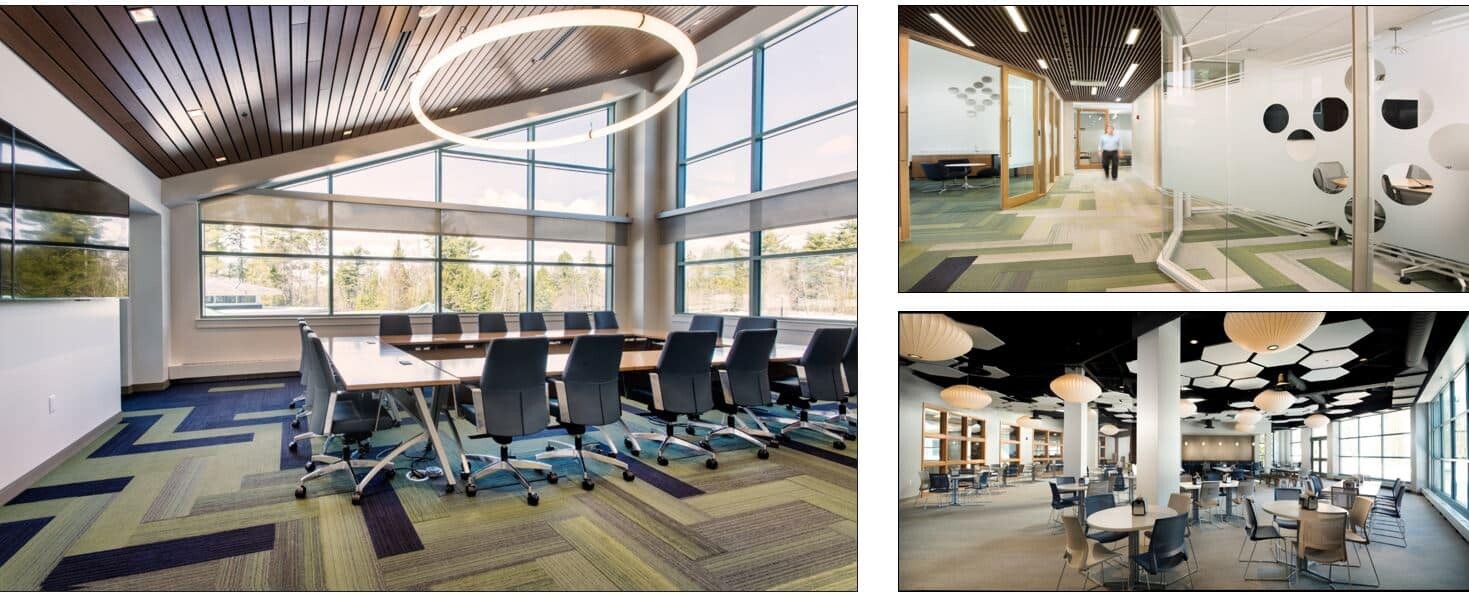 MEREDA:  Describe the building and project.
Tyler Technologies:  Designed by Mark Mueller and Associates and built by Zachau Construction, the new Tyler Technologies expansion project consists of 5 floors of high-tech office space combined with numerous health and wellness amenities.  Completed in November of 2017,  the 100,000 square foot office building includes new state-of-the-art product demo spaces, (5) new training centers, and an array of collaborative flex-office and private breakout rooms that allow for long-term project collaboration.  The project also includes a new auditorium, cafeteria, fitness center, and an outstanding connection to the outdoors.
MEREDA:  What was the impetus for this project? 
Tyler Technologies:  For Tyler Technologies, the expansion project represents the heart of a strategic growth plan that includes hiring 550 new employees by embracing Maine's loyal workforce while positively impacting the community.  The objective was clear; design and build a state-of-the-art office building that would provide workspaces and the technology infrastructure for people to collaborate, work, and play.
MEREDA:  That sounds like quite a process.  How long were you in the planning stages before construction started? 
Tyler Technologies:  Preconstruction from concept to mobilization was just under a year.  The design guidelines were established with deliberate focus on employee health, sustainability, and community.  From employment to the environment, considerations were made every step of the way to ensure that what was right for Tyler Technologies was also right for the community.  To reduce excessive tree removal and site clearing, site retention ponds were eliminated and replaced with a subsurface retention system housed below the parking lots.  Embracing the connection to the outdoors while focusing on interior sustainability such as LED lighting, advanced HVAC and lighting controls, and special consideration to daylighting were paramount to creating an office building with a balance of privacy and collaboration to stimulate creativity and also provide unique quiet spaces for focused planning.
MEREDA:  Tell us about the most challenging aspect of getting this project completed. 
Tyler Technologies:  Like all construction projects, the expansion was not without its challenges; designing and building a state-of-the-art facility within the client's budget without sacrificing the goals was our primary focus.
MEREDA:  Something unexpected you learned along the way was…
Tyler Technologies:  With such a collaborative preconstruction and planning phase, we were able to eliminate major surprises during construction.  Throughout the design process though, it was remarkable to learn that Tyler Technologies was so committed to their employees and remained the focus of the project.
MEREDA:  Now that it's complete, what feature of the project do you think makes it the most notable? 
Tyler Technologies:  By doubling their office space capacity, Tyler Technologies is now able to provide high-tech office space to house the more than 550 new employees  expected through 2021.  With robust integration of modern telecommunication technology, both new and existing employees will experience reduced travel and will find more time at home and in the community.  New jobs will range from software development to professional sales, marketing, and financing while increasing and diversifying the local tax base.  As Yarmouth Economic Development Director Denise Clavette said of the expansion "It sets the stage for strategic growth in the market.  It keeps people in Maine and attracts young people right out of college".